At the Vintners' Hall in April 2012 we welcomed…
Cynthia Gresham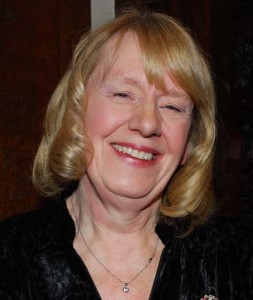 Cynthia was born in 1946 , and brought up and educated in Ruislip, Middlesex. After completing her nurse training at St.Bartholomew's Hospital in London, she was a Sister at the Addington Hospital in Durban, South Africa for 2 years. On returning to England she had a career break to have 4 children, a daughter and 3 sons, who are all now married and she has 6 grandchildren. Returning to her career after 8 years, and after holding a senior position in Community Nursing for several years, she bought a property and started a very successful Nursing home in Dunstable which she ran until her retirement. She has since become actively involved in community work as a Trustee for several organisations. Cynthia is in Rotary, the Church, Chairman of Governors of a Special School and works for an organisation for homeless young people. In 2009 she was High Sheriff of Bedfordshire and she is currently  Deputy Lieutenant of the County. She lives with her partner David who works for Central Bedfordshire Council and the Fire Authority. They enjoy travel, the theatre, music and their family.
Lydia McClure
Lydia was born in 1947, the daughter of John Christie-Miller, chairman of Christy & Co. Stockport and Liveryman of the Company (Master 1956) She was brought up in Cheshire and educated at Badminton School Bristol.  She spent a term at Vienna University learning German. During her father's tenure as president of the European Federation of Hat Manufacturers she accompanied him to conferences in Barcelona, Milan and Vienna. After a secretarial course in Stockport she applied to the British Red Cross Society for a job in their London office.  Instead she was directed to the Service Hospital Welfare Department and trained as an occupational therapist and medical social worker.  Her first posting was to the Royal Naval Hospital Plymouth and then to the Far East to the British Military Hospital Singapore.  She met her husband Ian in Singapore while he was serving as a naval officer in HMS Glamorgan.  She married in 1969 and settled in Devon.  After bringing up two children she worked for ten years as a manager for The National Trust and then managed a local Tourist Information Centre.
Her voluntary work includes eight years with the Citizens' Advice Bureau, the charity Chernobyl Children's Life Line, twenty five years of running a French twinning and membership of the Parochial Church Council.
Her interests include tennis, opera, languages, gardening and travel. She enjoys her four grandchildren.
The Reverend Andrew Pritchard-Keens
Andrew was born in 1957. He read Sciences at Van Mildert College, Durham, and then took his PGCE at Christ Church, Oxford. Andrew enjoyed playing rugby for both universities and did some college rowing.
In England he has taught Mathematics, Physics, Chemistry, Religious Education and Sport. Overseas he has worked as an English teacher in Colegio San Andrés, Paraguay, and after that as a youth worker and Christian educator based in Holland which involved travelling to Russia and the Middle East. In 2007 Andrew studied theology and ministry at Wycliffe Hall, Oxford in order to be ordained. In August 2012 he is starting in a new post as Priest-in-charge of Beckley, Stanton St John, Forest Hill and Horton-cum-Studley.
Andrew has been married to Fenella for eleven years. Fenella teaches at Magdalen College School, Oxford. Andrew's interests include classical guitar, singing, walking, chess and bridge. He enjoys watching England rugby internationals, the varsity match and the boat race.
Ben Robinson
Charles Samek