Once again, the company's principal social event took place at the Mansion House and was attended by Feltmakers and their guests, which this year, we are delighted to say, included the Lord Mayor and Lady Mayoress, who were, therefore, guests in their own residence.
Master Nick Heal put his own stamp on this event, which combined the traditional ceremonies and the splendour of the Mansion House's Egyptian Room with a less formal atmosphere and with much good humour evident from all the speeches.
Nick, accompanied by his wife Ruth, led the receiving line and they and the wardens set the scene by making everyone feel truly welcome.
Whilst we enjoyed the relaxed reception drinks, we were able to view the winning designs from this year's hat competition, which were laid out on the central table and each one modelled elegantly by Jasmine.This was accompanied by music beautifully played by the Ariss String Quartet of the Guildhall School of Music, who later also performed from the balcony during dinner.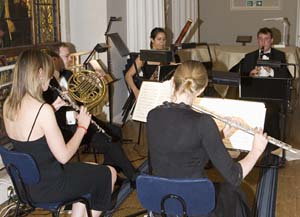 An excellent dinner included a main course of fillet of beef, which had an interesting accompaniment of a watercress sorbet, and fine wines were served. The toast to the Lord Mayor and the City was given by Upper Warden Susan Wood with an amusing, witty and topical speech, which went down very well.
The Lord Mayor, Ian Luder, responded in style and highlighted the contributions of the livery companies.
The Master's speech was delivered in the very personal and amusing manner that we have grown to expect with many witty off the cuff remarks, which prompted much laughter. He and Ruth had recently been guests at the annual Zunft Zur Waag in Zurich and he welcomed Rene Kalt, Der Zunftmeister Zur Waag as a guest to our banquet. Rene addressed us and then presented a bottle of his local Swiss wine to the Master.
The winner of the hat design competition, Melissa Pemberton-Pigott, was presented with her prize by the Lady Mayoress. Melissa's winning hat, 'The Alien Eye', was modelled for us by Jasmine.
The final after-dinner speech was provided by Reverend Canon Roger Royle, well known writer and broadcaster and who has also been senior Chaplain at Eton, and Chaplain of Southwark cathedral. With a practised and brilliantly delivered presentation, Roger had the whole hall in fits of laughter as he shared anecdotes taken from his long and varied career.
A very fine end to a most enjoyable and memorable Banquet.
Peter Shirley
All photographs courtesy of Gerald Sharp Photography. To see all their pictures of the banquet and to order copies online, click here.