At the Girdlers' Hall in January 2013 we welcomed…
Rebecca Nelson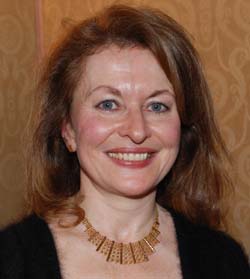 Rebecca is currently Senior Media Relations Manager in the Markets & International Banking division of RBS in London and her career has focused on PR in the City's financial sector with positions at BlackRock, Goldman Sachs and Salomon Brothers. She graduated in 1984 and became a cub reporter on The Wrexham Express and The Wrexham Leader.
Rebecca enjoys all forms of dance, having recently attended jazz and jive classes, and has an enduring love of the arts, which she has endeavoured to combine with her PR work whenever possible, for example promoting Goldman Sachs' sponsorship of the Royal Academy's Three Emperors exhibition.
In her free time, she enjoys Pilates, watching rugby, cooking and all forms of the Arts and is a Friend of Opera Holland Park.  An active supporter of the University of Birmingham's Alumni Association, she founded its Businesswomen's Network and is a benefactor. She is a supporter of several animal rescue charities and has volunteered at Salvation Army Christmas lunches and soup kitchens. She is a weekly volunteer at Columbia Primary School where she teaches reading.
She lives in West London and is a committee member of the Stamford Brook Residents' Association.
…. and at the Skinners' Hall in April 2013 we welcomed…
Steve Bowles
Steve was born in 1957 and grew up in Marlow Buckinghamshire. He attended Great Marlow Secondary Modern School. After leaving school Steve attended Buckinghamshire College of Further Education where he gained OTC in Building Studies and HTC in Building Construction. Steve then went on to study part time at North London Polytechnic where He gained a BSc Architecture (RIBA Part 1), Honours Diploma in Architecture (RIBA Part 2) and Professional Practice and Management (RIBA Part 3).
Steve is a member of the Royal Institute of British Architects (RIBA), Member of the Association of Consultant Architects (ACArch), and a Fellow of the Royal Society for the encouragement of Arts, Manufactures & Commerce (FRSA).
He is a partner in the Chartered Architectural practice of HFP Architects based in Wendover and has been with the practice for over 20years having previously worked for Costain Homes, and Lloyds Bank Architects Department.
Steve has been married to Kim for 33 years and they have a daughter Joanne aged 30 and a son Matthew aged 24.
Steve firmly believes in playing an active role within the communities in which one lives and works and as such whilst his children were at school he was a parent Governor at their first, middle and senior schools. Steve was elected last year as a District Councillor on Aylesbury Vale District Council and has been selected to stand as a candidate for this year's Buckinghamshire County Council elections and is also chairman of Aylesbury Conservative Constituency Association.
Steve is involved with charitable concerns being a member of the Game Club (a local charity which raises funds for local charities), Rotary and he is also an active Freemason.
Steve's interests include reading, gardening, music, the countryside and watching most sports especially Rugby (he is a London Wasps season ticket holder), Football and Cricket but he most enjoys spending time with the family.
Commodore Paul Chivers OBE RN
Paul is currently the Head of Oversight and Approvals within the Military Aviation Authority.In a career which has included aviation, command afloat and ashore and staff appointments in both the MOD and Operational headquarters, he is now focused on aviation safety across Defence.
Born in Bristol and educated at Wellington School in Somerset.He joined the Royal Navy in 1981 and conducted his initial training onboard HMS COVENTRY, which included her loss during the Falklands conflict. With early appointments as a Bridge watch-keeper he later flew Lynx helicopters before returning to the surface ship world as the Executive officer of a destroyer.
On promotion to Commander he was the Team Leader for UK operations in Sierra Leone and Afghanistan before commanding HMS LANCASTER for operational deployments to West Africa, the South Atlantic dependencies and South America.Selected for Captain whilst serving in the MOD, he returned to PJHQ to lead the pre-mission staff training for Iraq and Afghanistan. As the Chief of Staff to the Commander UK Maritime Forces he also took part in counter piracy off the coast of Somalia and supported the planning for NATO operations over Libya.On selection for Commodore he commanded RNAS Yeovilton before moving to his current appointment at the Military Aviation Authority.
Married to Sian, he has 2 grown up children and a family home in Fareham Hampshire, and his principal interests are sailing and maintaining his yacht, and training the families boisterous Flatcoat Retriever.
The Very Reverend Dr David Ison, Dean of St Paul's Cathedral
The Very Reverend Dr David Ison is Dean of St Paul's Cathedral. Brought up in Brentwood, Essex, David went to university in Leicester and theological college in Nottingham, and was ordained in 1979 as a curate in Deptford, south-east London, where he was engaged in inner-city ministry and studied for a PhD in early church history. After a further three years as a tutor at the Church Army training college in Blackheath, in 1988 he became vicar of Potters Green, a parish on a housing estate in Coventry which needed the church to be rebuilt. Experience there in theological training led in 1993 to work in Exeter in theological training for ordinands and clergy, and from 1995 he was also Residentiary Canon at Exeter Cathedral with particular responsibility for the library. In 2005 David became Dean of Bradford with the task of rebuilding the cathedral's ministry and mission after a difficult period of insolvency. He became Dean of St Paul's in May 2012. As part of his work, he is involved in the assessment of potential clergy and represents the Southern Deans of England at the General Synod. David married Hilary in 1977 and they trained for ministry together, with Hilary being ordained when this became possible later on: she has worked in parishes and as a hospice chaplain, and for the last five years has been a selection secretary at Church House organising assessment and training for candidates for ministry. They have four grown-up children and three grandchildren (so far!). David relaxes by doing DIY and working on his kit car when time allows.
Joe Petran
Commander Richard Moss RN
Dan Benham